Powered by IMDB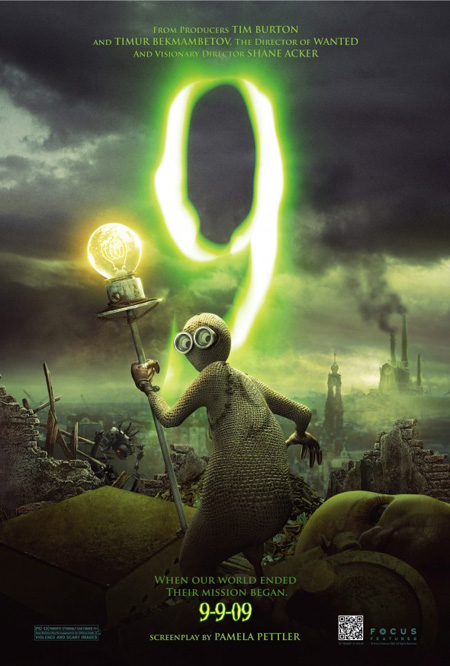 Title:
9

Distributor:
Focus Features

Director:
Shane Acker

Writer(s):
Pamela Pettler (screenplay), Shane Acker (story)

Staring:
Christopher Plummer, Martin Landau, John C. Reilly, Crispin Glover, Jennifer Connelly, Fred Tatasciore, Elijah Wood

MPAA Rating:
Rated PG-13 for violence and scary images.

Running Time:
79 min (1 hr and 18 min)


Synopsis:

When 9 first comes to life, he finds himself in a post-apocalyptic world where all humans are gone, and it is only by chance that he discovers a small community of others like him taking refuge from fearsome machines that roam the earth intent on their extinction. Despite being the neophyte of the group, 9 convinces the others that hiding will do them no good. They must take the offensive if they are to survive, and they must discover why the machines want to destroy them in the first place. As they'll soon come to learn, the very future of civilization may depend on them.


Critics:


Roger Ebert: 3 Stars
Michael Phillips: 2 ½ Stars
EW: Lisa Schwarzbaum: B+


Other Sites:


At The Movies: A.O. Scott: See It, Michael Phillips: Rent It
Rotten Tomatoes: T-Meter: 56% (Rotten), Top Critics: 65% (
Fresh
), RT Community: 79% (
Fresh
)
Metacritic: Critics: 60 out of 100, Users: 6.8 out of 10
MRQE Metric: 60: (5.0% A, 44.5% B, 39.5% C, 11.0% D, and 0.0% F)
Yahoo Movies: Critics: B- Users: B+


Source Material:
Based on
Shane Acker's
original short with the same name.
Acting and Dialogue:
B+: Look at the voice talent one can see there is wide range of people:
Christopher Plummer (Charles Muntz in Up),
John C. Reilly (In almost every Will Ferrell film),
Crispin Glover (George McFly in Back to the Future),
Jennifer Connelly (Sarah in Labyrinth), and
Elijah Wood (Frodo in Lord of the Rings)
Art Direction:
A+: The animation was beautiful therefore the art direction and cinematography gained bonus points.


Cinematography:
A: As you can see from above, the animation was so good that it gave
art direction and cinematography bonus points.
Direction:
B+:
Shane Acker is a very new filmmaker. If you look at his filmography you will see he only has three film on there, two of which are in the 9 universe. I would say both 9's had good direction.
Screenplay:
B: I like how this was still the classic man vs. machine story form but with a spiritual/ sci-fi twist.


Sound and Music
:

B: I know a lot people are going to see this because the trailers used Coheed and Cambria's music;
but if my memory severs me correctly the only music in the film is scored.


VFX:
A+: I believe that
Shane Acker really knows his stuff when comes to VFX if anything was awesome from this film it would be the CGI. He may have pick up this from working as an animator at Weta Digital during the making of the little film Lord of the Rings: The Return of the King.
Overall:
B+: The films I see at the Oscars this year for best animation: Up, Fantastic Mr. Fox , Ponyo, Coraline , and 9. I place 9 on this list because of it's stylized VFX and animation. I do recommend it to watch from a aspect that movies can be animated and not for kids.